Charges are per night & include 2 persons & 1 car per unit.
Our electrical hook ups are 10 amp - 10 metre cable required.
Please note Commercial vehicles will not be accepted on the park – click here for terms and conditions.
---
TOURING PITCH BOOKINGS
A deposit of £50.00 per unit per week or part week is required to secure your booking. If taking out the Widdicombe Farm Cancellation Plan you must include the premium with your deposit. See terms and conditions for details of the plan.
The deposit is non-refundable but will be deducted from the total of your holiday which is payable in full on arrival. Payment can be made by card or cash (No cheques on arrival). Non arrivals will lose their reservation after 24 hours unless pitch fees are fully paid in advance.

STATIC HOLIDAY CARAVAN BOOKINGS
A non-refundable deposit of £100.00 per unit per week will be required to secure the booking with the balance of your holiday due at least 28 days prior to arrival.
---
Widdicombe Farm Gift Vouchers
Are you being asked what you'd like for Christmas by your family & friends? When it's your birthday or a special anniversary is it a struggle to come up with something you'd like that's affordable and useful?
We've all been there - what do you give someone that says they don't need anything.
How about a Gift Voucher from Widdicombe Farm. This is a present that you know you will definitely use and it will be a lovely gift to receive. Vouchers are valid for up to 2 years from the date of issue and can be redeemed against pitch fees for a touring holiday or accommodation in one of our static holiday caravans.
To obtain your gift voucher all you need to do is to contact Liz or Sandie in reception and we'll help get this organised. Vouchers are available in multiples of £10 so they make an affordable and useful present to give or receive.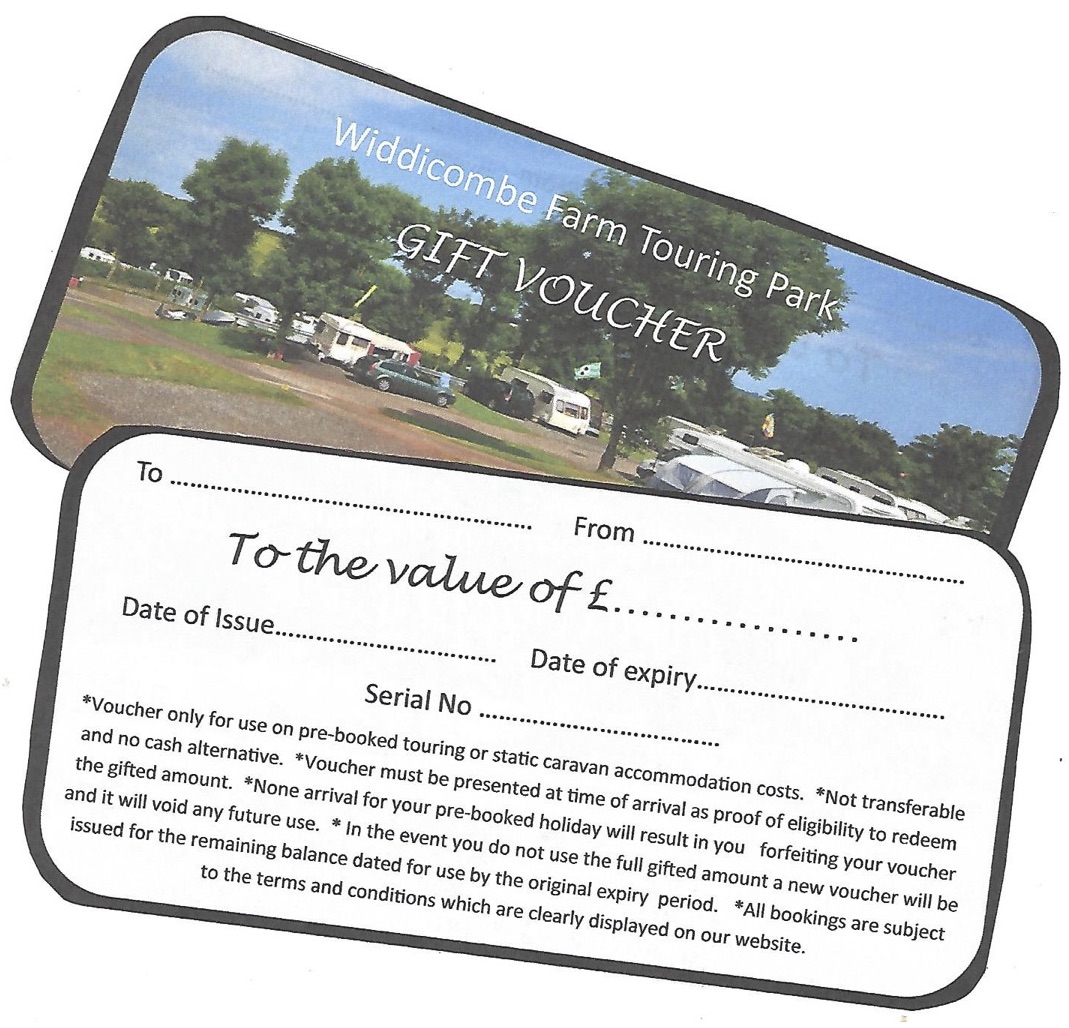 ---
FREE ENTRY INTO OUR PRIZE DRAW
TO WIN £100 OFF A HOLIDAY IN 2023
To qualify all you need to do is to have taken a holiday of 7 nights or more in 2022 on a touring pitch or in one of our static holiday caravans. Once you have taken your holiday you will be eligible for entry and your name will be entered into our prize draw.
Terms & Conditions
The draw will take place on Friday 4th November 2022 when the park has closed and all holidays have been taken.
A booking will be selected at random and the lucky winner will be notified either by phone or email within 14 days.
If a winner does not respond within 14 days of being notified the prize will be forfeited and Widdicombe Farm will select another winner in accordance with the process described above
*The prize is nontransferable and no cash alternative will be offered
*The £100.00 prize is to be used off the pitch tariff for a touring pitch or accommodation for a static holiday caravan only and does not include extras such as the pitch request fee or the Cancellation Plan.
*Seasonal pitch holders are not eligible for entry into the draw.
*The prize is valid for use on any 7 night touring or static holiday booking in the 2023 season.
*None arrival on your 2023 holiday will result in the prize being forfeited and void for future use.